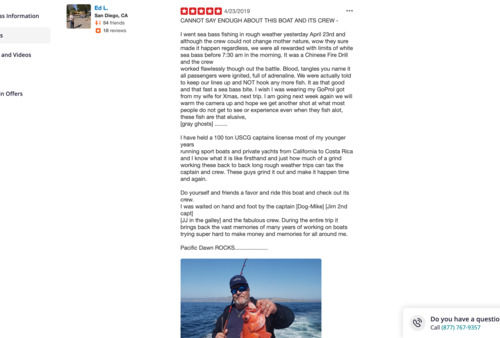 CANNOT SAY ENOUGH ABOUT THIS BOAT AND ITS CREW -
I went sea bass fishing in rough weather yesterday April 23rd and although the crew could not change mother nature, wow they sure made it happen regardless, we were all rewarded with limits of white sea bass before 7:30 am in the morning. It was a Chinese Fire Drill and the crew
worked flawlessly though out the battle. Blood, tangles you name it
all passengers were ignited, full of adrenaline. We were actually told
to keep our lines up and NOT hook any more fish. It as that good and that fast a sea bass bite. I wish I was wearing my GoProI got from my wife for Xmas, next trip. I am going next week again we will warm the camera up and hope we get another shot at what most people do not get to see or experience even when they fish alot, these fish are that elusive,
[gray ghosts] ........
I have held a 100 ton USCG captains license most of my younger years
running sport boats and private yachts from California to Costa Rica
and I know what it is like firsthand and just how much of a grind working these back to back long rough weather trips can tax the captain and crew. These guys grind it out and make it happen time and again.
Do yourself and friends a favor and ride this boat and check out its crew.
I was waited on hand and foot by the captain [Dog-Mike] [Jim 2nd capt]
[JJ in the galley] and the fabulous crew. During the entire trip it brings back the vast memories of many years of working on boats trying super hard to make money and memories for all around me.
Pacific Dawn ROCKS.....................
- Ed